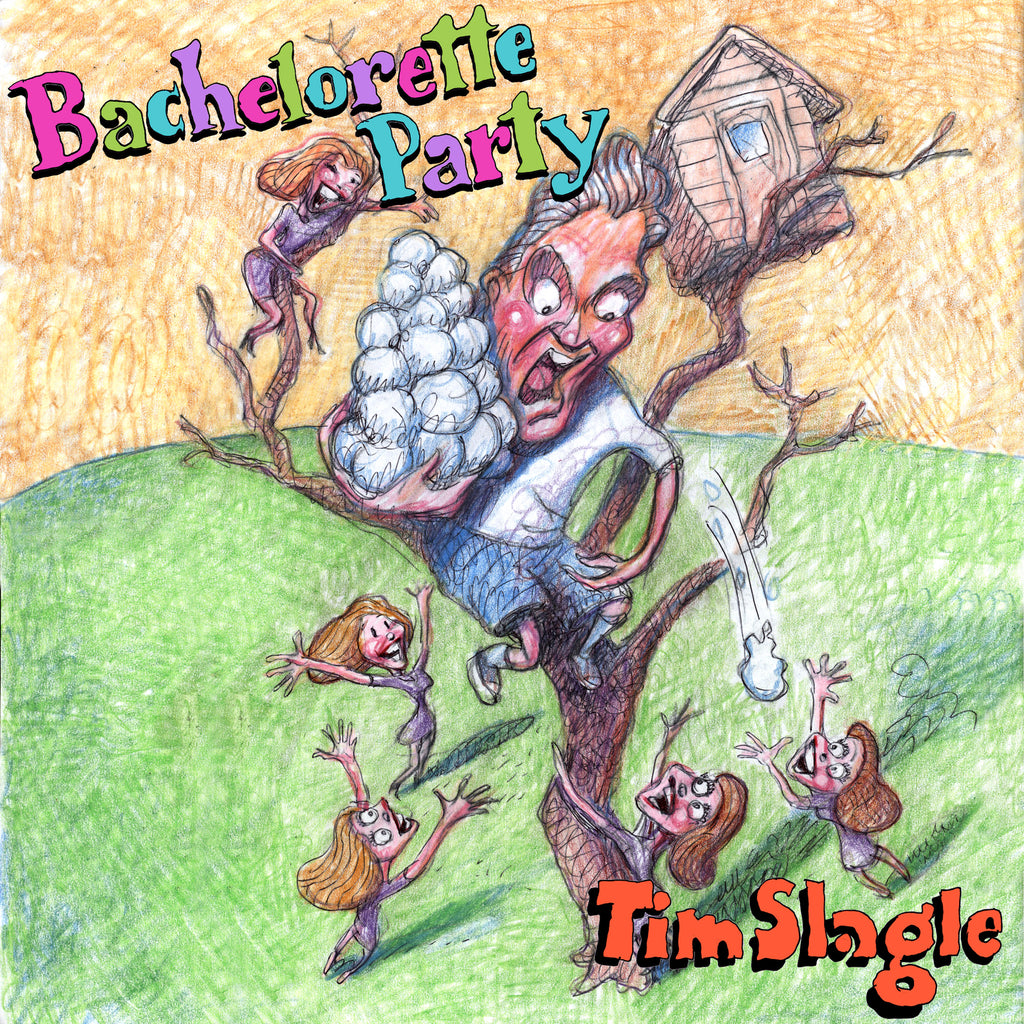 Tim Slagle - Bachelorette Party (download)
This product includes a compressed (.ZIP) folder containing .mp3 audio files and a .jpg image of the album art. After purchasing you will receive an email within 5 minutes with a link to your download.

After 30 years in standup, Tim Slagle is unprepared for a career change. Not only would he have a rather yawning resume gap—right around the same amount of time you'd serve for murder, he figures—but he's learned that in the transition from punk rock anarchist to cranky old man, he can keep doing the same act. Just change "legalize it" to "get offa my" in the grass bits, and he's well on his way to another 30 years of bachelorette parties. Slagle's observational skills are on full display in his latest special, aptly titled "Bachelorette Party" and recorded live on a winter's night at the Acme Comedy Club in Minneapolis. Certainly, he argues, you'd learn as much spending a few racks on a Visa card as you did taking out student loans for a gender studies degree, so why not add a little disclaimer? "You know you're not getting a job with this" stamped next to every degree that can't be monetized, right there in the college catalog oughtta help. What, precisely, he asks, constitutes a "buttload" of anything? And why is it so gratifying to learn via a well-placed bathroom scale and a nasty morning math habit? Why, he muses, can't we clear the cache of our brains, dumping the theme song to the Brady Bunch or the lyrics to the Oscar Meyer weiner jingle to make room for deeper thoughts, like how much casino denizens have in common with astronauts? With all this heady inquiry, uproarious commentary, and excellent advice (remember, kids: technically, a suitcase is a bicycle—and not an emergency), you'd be a fool to skip Slagle's newest, now out from the fine folks at Stand Up! Records.
Track Listing
The Crichton Corollary
Proud Warrior Belly
Exaggeration
Student Loans
Art School
Bad Habit
Apologies
Moon Walk
Riding that Train
Lost
Crashing
Comedy = Love
Just Guys
The Treehouse
Bachelorette Party
---
Share this Product