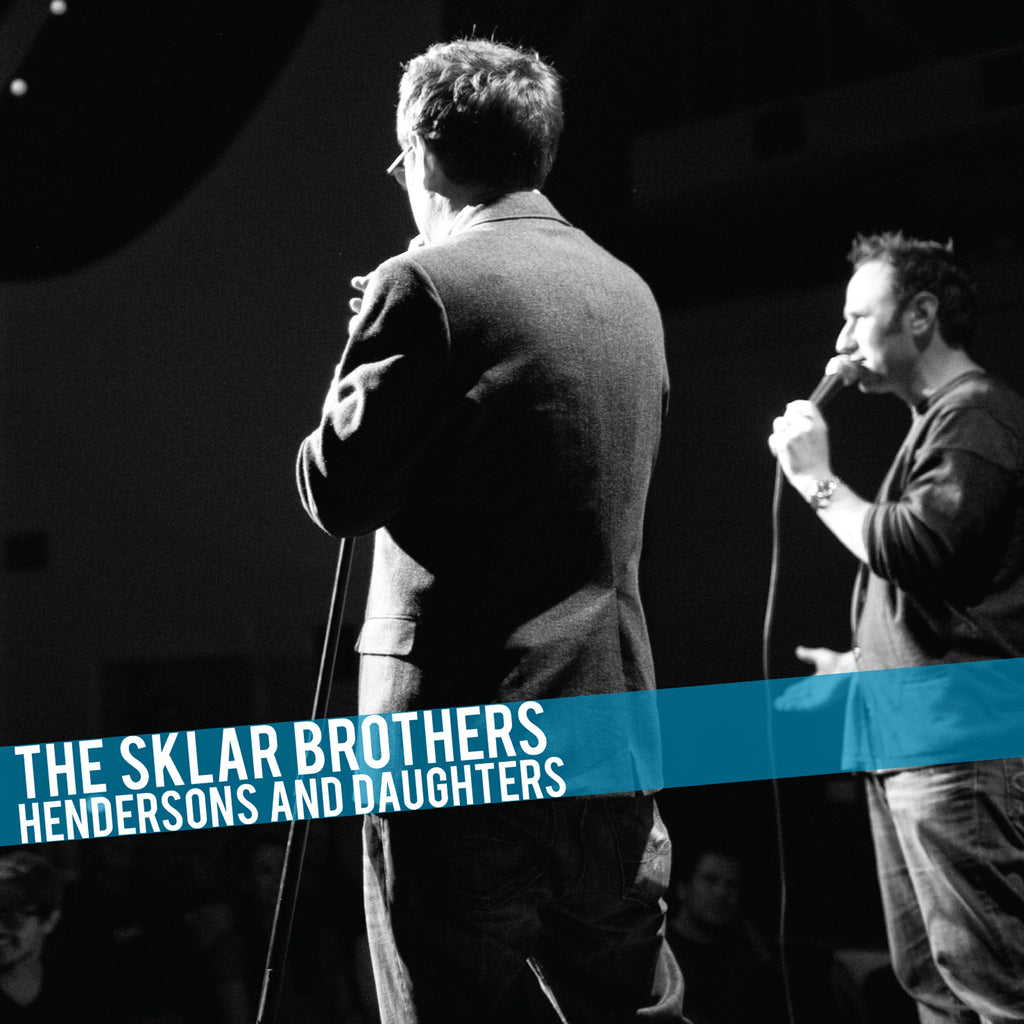 The Sklar Brothers - Hendersons and Daughters (download)
This product includes a compressed (.ZIP) folder containing .mp3 audio files and a .jpg image of the album art. After purchasing you will receive an email within 5 minutes with a link to your download.
Randy and Jason Sklar seek new fans for their stand-up release, "Hendersons and Daughters," recorded live in Denver, CO. Applicants must be old enough to question necrophilia and poor rhyming in fairy tales and enjoy the bawdier versions of jokes originally written for toddlers (example: What do you call a quilt that's slept with 20,000 people? Quilt Chamberlain!). Must be confounded both by the presence of twins in sexual fantasy and the sovereignty of the fleshy area that connects actual conjoined twins. Must be unable to keep up with the Kardashians, but understand the early warning signs of hoarding episodes of Hoarders on the DVR. Must fully internalize the shame of finding that Scarlett Johanssen, ScarJo herself, has "Pizza Hutted" you with a Jeff Buckley cover song. And above all, must understand that Margaret Cho would be the only acceptable substitution for Mr. Miagi should we need to create another Karate Kid remake. So long as, of course, the kid gets a safe word.
The fast-paced but even quicker-witted banter between the Sklar Brothers soars to new, more ridiculous heights with their latest release, "Hendersons and Daughters," as the duo's riffs jump blithely from racist haberdashers to Google's confounding auto-fill to Chico's marketing strategies to whether bad rapping insults smoothies. And in the end, maybe the lesson is that we can all find joy in life by complaining about the little things or at least in listening to the Sklar Brothers do it for us.
Track Listing
Google
Kardashians
Hoarders
And Twins
As Nature Made Him
Fairy Tales
Five Little Monkeys
Kid Jokes
Karate Kid
Schwarzenegger
Sombrero
Scarlett Johansson Pizza Hut
Chinese Security Line
Hip Hotels
Creed
---
Share this Product