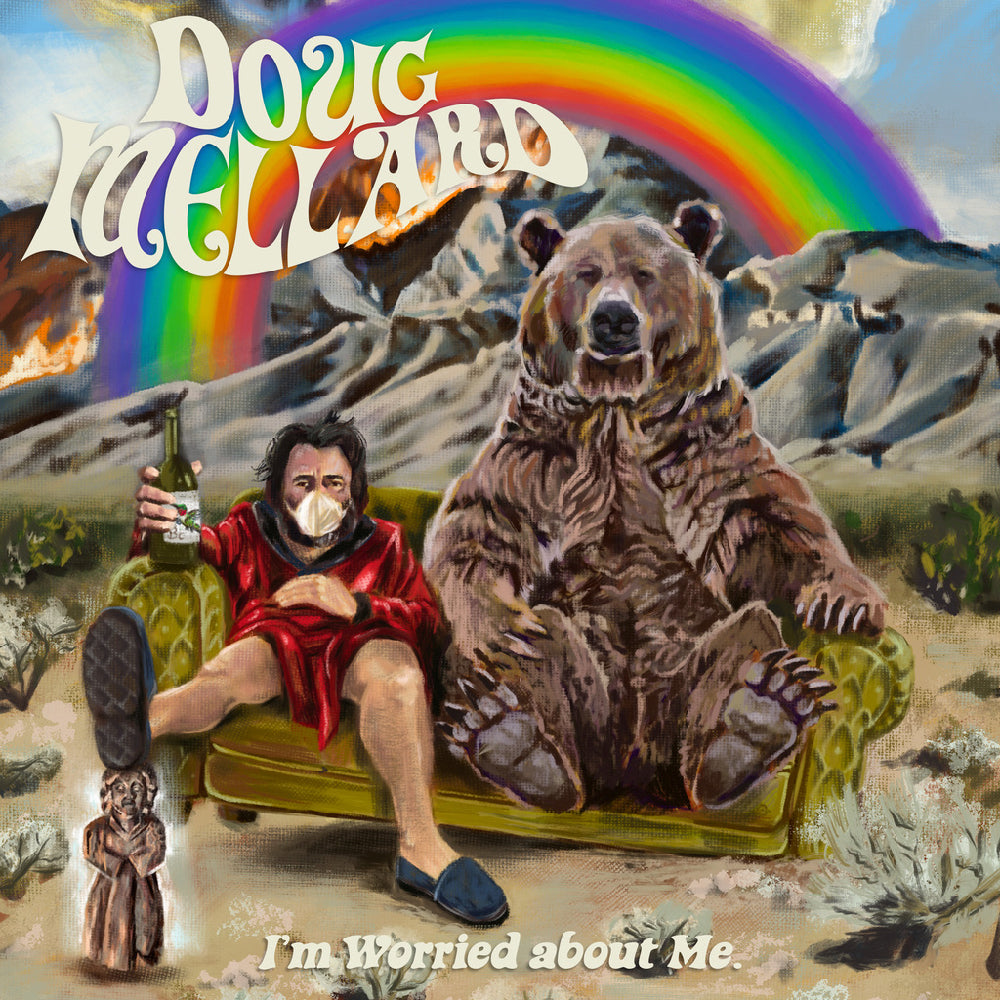 Doug Mellard - I'm Worried About Me (download)
This product includes a compressed (.ZIP) folder containing .mp3 audio files and a .jpg image of the album art. After purchasing you will receive an email within 5 minutes with a link to your download.


Having fled Los Angeles on March 30, 2020, Doug Mellard, our global-pandemic Gilligan, is seven months into his three-week exodus in Santa Fe. They've been the longest years of his life. He's desperate for attention. And so he's dared to gather a small group of masked people, six dolls, and a leftist dog on a vast open-air balcony for a golden-hour, live-streamed comedy show.
By the grace of Earth Angel Tom Hanks, the canary in North America's COVID-mine, Mellard's hastily gathered provisions included a well-cut suit (among five Nic Cage-themed shirts and two pairs of Nic Cage-themed pants), perfect for walking this wholly novel comedic tight-rope. In the vastly relatable "I'm Worried About Me," Mellard unspools his own mental unspooling in the sun-baked southwest, where, surrounded by double rainbows, cannibalistic hummingbirds, and the rippling calves of turquoise-bedecked, desert-preserved seniors, he's dodging LSD-toting podiatrists, panic-eating himself into food poisoning, and imagining the unparalleled joy he would have brought to Tony Romo's 40th birthday party—if, of course, he hadn't been busy stealing toilet paper and talking Boomers out of planning yet another barbeque-rave. From a respectful distance, masked and vaxxed, Stand Up! Records is thrilled to confirm that great comedy truly does emerge from the crucible of terrible times.*
*Now, stay safe and stay home, lest Doug Mellard's "I'm Worried About Me" lead directly to Doug Mellard's "I'm Worried About Me 2: Worry Harder."
Track Listing
What Could Go Wrong!
In the Beginning
Stocked Up
Make Yourself at Home
People We Came Across
Breaking Up the Monotony
Santa Fe Wildlife
Homo for Romo
People I won't Miss or Won't
Pandemic Pursuits and Purchases
Lowlights of 2020
Uh... A Little Help?
---
Share this Product