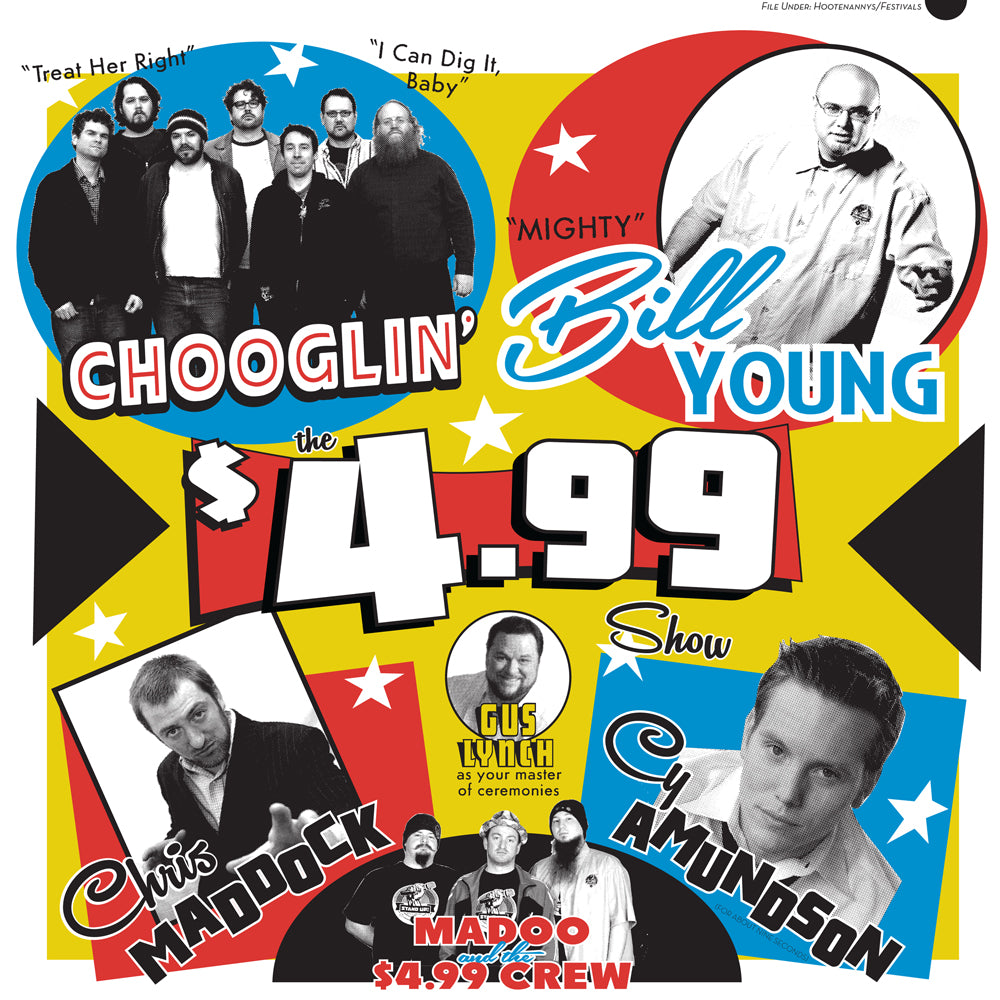 Various Artists - The $4.99 Show (download)
This product includes a compressed (.ZIP) folder containing .mp3 audio files and a .jpg image of the album art. After purchasing you will receive an email within 5 minutes with a link to your download.


If you don't know, now you know: The $4.99 show is a semi-quarterly comic and rock-n-roll, liquor, and shenanigans festival put on by Stand Up! Records. For one low, low price, the crowd packs on in to a local Minneapolis venue to chug and chortle, giggle and wiggle. And now you can play the home game! Our latest release is a two-disc extravaganza – worth the cost for 43 porn remake titles alone – featuring an epic 2010 session of The $4.99 Show recorded live at the Triple Rock Social Club (home to free bacon night, veiled Blues Brothers references, and more punk rock street cred than you can shake a 7" at). The show stars Cy Amundson and Bill Young with emcee Gus Lynch, Madoo and the $4.99 crew (our house band), and a full disc of the legendary, soul-shaking, booty quaking sounds of Minneapolis' own Chooglin'. Just in time for Christmas, behold! The perfect gift for your friends and loved ones and probably anyone with a beard, "The $4.99 Show," packed up all purdy in a limited edition, double-disc tip-on gatefold. As the great Dan Schlissel puts it, "It's an exorbitant expense for a niche show, but that's how we roll." Amen, brother.

Track Listing

Album 1

Welcome Announcement

The $4.99 Show Theme Song

Master of Ceremonies

Getting Older

The Grand and Terrible List

Smoking and Parenting

Cy Amundson (for About Nine Seconds)

Duck Hunt

Speaking of Kids

A Ghost Story

Alcohol and Pot

Chewing Tobacco

Dinner at Super America

You're Not Fat

A Christmas Story

Bombastic Ending
Album 2
Take Your Sweet Time

Real Lowdown

I Can Dig It, Baby

Nexium of Interest

Better Than You

I Need a Break

Hal's Haberdashery

Airport Bar

Tonight, Alright

Gone, Gone, Gone

Birds.mp3

Waltz in D

Taverner's Fly

Eternal Fire

Today, I May Rise

Treat Her Right

Royale Vengeance

Rising Son
---
Share this Product