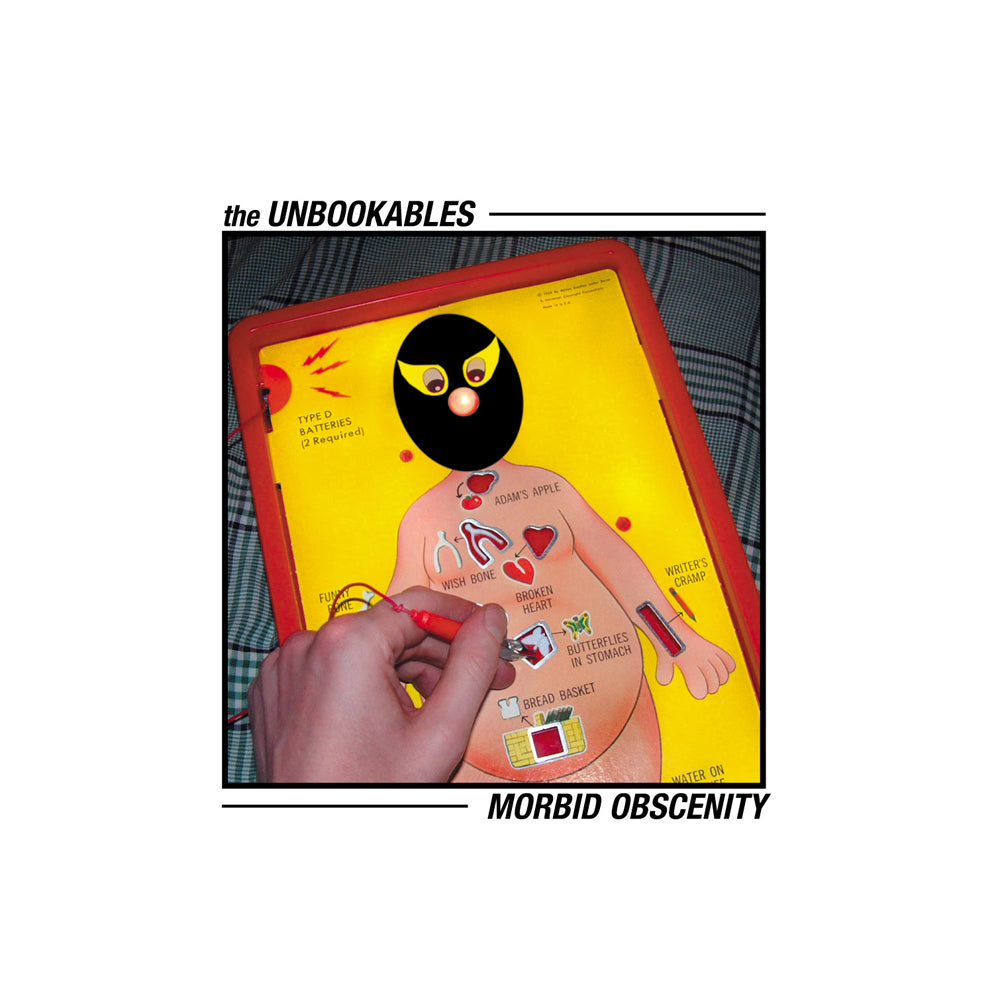 The Unbookables - Morbid Obscenity (CD)
It takes an entertainment professional of a certain disposition to freely admit that he's not simply ironically unhip, but, in fact, quite possibly utterly unmarketable; the Unbookables, having freely chosen their name, are most certainly performers of that disposition. While some comedians amble up to the line, nudge it with a toe or two, but never truly dare cross it, the Unbookables, well, the Unbookables simply get stunningly drunk and fling themselves over that proverbial line like hurdlers on a speed binge.
In 2006, upon learning with surprise that their dear friend Mr. Hinty was apparently stunningly fat (they'd possibly been too intoxicated to notice previously), the Unbookables decided to take to the stage, getting together their posse with only one faint cry of, "Hey guys, I know: we'll put on a show!" Like modern-day drunken Partridges, they suited up and hit the stage at the Skyline Comedy Cafe in Appleton, WI with Doug Stanhope as their ringleader (some might say "sleaze wrangler"), aiming to raise the money that Hinty would need to ratchet down his belt size. Unbookables Sean Rouse, Lynn Shawcroft, and Andy Andrist, along with a cameo by Mr. Hinty himself, offended even themselves, with Stanhope marveling after one set, "'Klonopin is like a warm hug from your mother that doesn't lead to sex'?" Yes, dear listeners, this is what you're in for. Not for the faint of heart, fastidious, or wildly successful, the Unbookables are ready to take the mic and shut the joint down, all in the name of almsgiving. The resultant CD, Morbid Obscenity, is limited to 1500 copies, all autographed by the filth-mongers themselves. All proceeds go to medical costs for Mr. Hinty.
Track Listing
Banjo Randy
Doug Stanhope Intro
Andy Andrist 1
Andy Andrist 2
Andy Andrist 3
Doug and the Condo Rules
Lynn Shawcroft
Doug and the Surveilance Nation
Sean Rouse 1
Sean Rouse 2
Sean Rouse 3
Doug Introduces Mr. Hinty
Mr. Arthur Hinty
Doug Stanhope 1
Doug Stanhope 2
Doug Stanhope 3
Doug Stanhope 4
Doug Stanhope 5
---
Share this Product