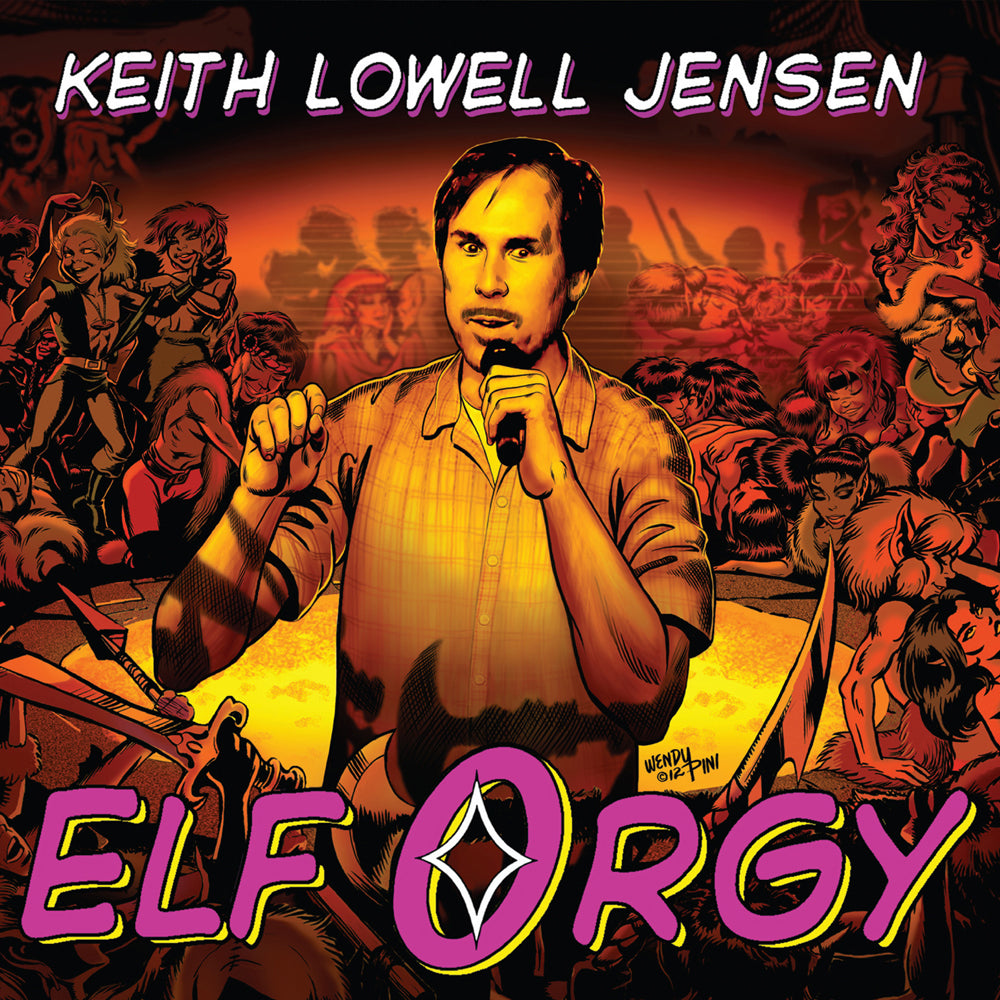 Keith Lowell Jensen - Elf Orgy (download)
This product includes a compressed (.ZIP) folder containing .mp3 audio files and a .jpg image of the album art. After purchasing you will receive an email within 5 minutes with a link to your download.
Keith Lowell Jensen is a straightforward man. He will admit to what others would hide… or at least quietly deny. For instance, he's the first to proclaim that he made a great decision when he dropped out of high school, because the period from that choice to his installation as the manager of PetCo was absolutely worth it. He knows that he sets off people's gaydar, and he doesn't mind—he just feels a little guilty about scoring the free drinks. He's been bested by a polite, theologically inquisitive border guard and a small dog with some odd proclivities and fantastic comedic timing. Keith Lowell Jensen turned down a porn star's offer to open for him, but also swapped masturbation stories with his childhood idol. And when it comes to the "bros before hos" code, he's both up for admitting that the rallying cry's been drilled into every American male and for the fact that in his life, the heirarchy's a little different: due to a few geographical ticks Google Maps can't tell you about (including the fact that the further north you drive into Oregon, the further you get into the deep American south), his allegiance goes first to hos, then tweakers, then huffers, then maybe, just maybe, bros.
A self-proclaimed liberal atheist (he has to bow toward Portland when the NPR call sign comes on), Jensen is also an equal-opportunity comic, dishing out to all takers. The result is a convivial, engaging performance—Jensen's third disc—with all the silly joy of friends giving each other a hard time at the bar… plus you get to hear the best combination of nonsense words since "Christian Punk Rock."
Track Listing
Chickens Are Dicks

Dog Party

Less Delicious

I Have a Kid I'm Not Hitting

Huffer Park

White Guilt at the Spray Ground

Anti-Feminist Sandwiches

Gay on Accident, Oops!

Horny Levites!

Travels Without God

Knock, Knock, Knockin' on Kevin's Door

Joan Rivers' Snuff Porn

Elf Orgy

Just Legalize It Already
---
Share this Product