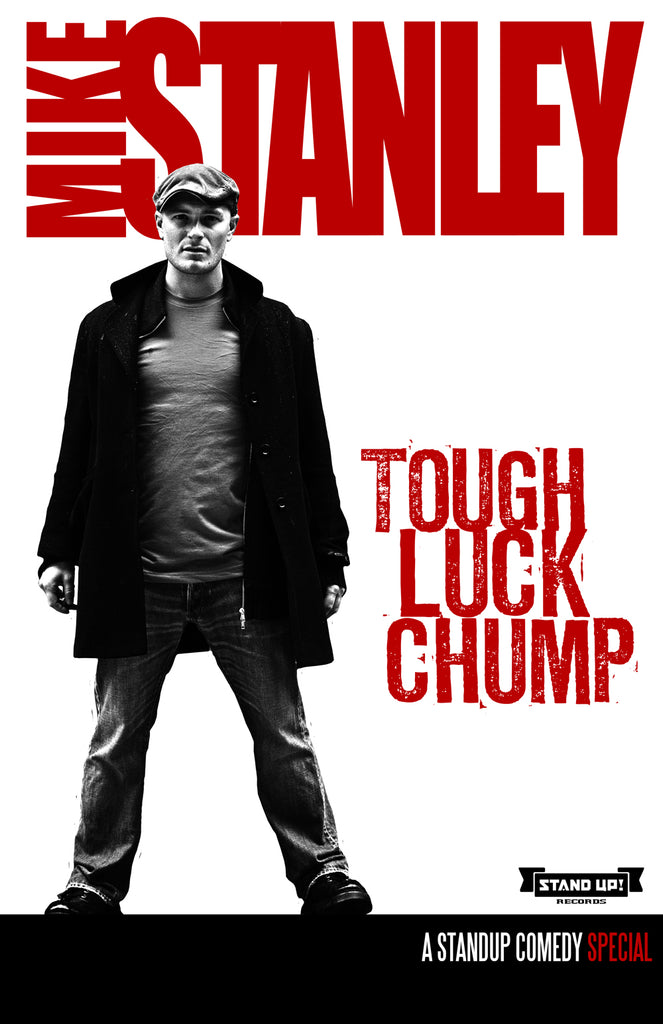 Mike Stanley - Tough Luck Chump (CD&DVD)
Mike Stanley is a bald, whimsical huckster. No, wait. Mike Stanley looks like a Sears mannequin without the wig. No, wait. Mike Stanley could be mistaken for Popeye's drunken nephew. No, wait! Oh, who are we kidding? Despite all the self-deprecating humor this Tough Luck Chump sends flying his own way, you can actually see Mike Stanley take the stage in his brand new DVD, out now from Stand Up! Records. The problem is, he's kind of a looker. With a mouth on him. Just the way we like them.
Stanley, who's named his memorable turn live at Chicago's lamentably lost Lakeshore Theater for what his dad would say if he needed bail ("Tough luck, chump!"), is particularly helpful as a giver of solid advice. For instance, on the topic of fathering, he astutely points out that he knows he's not ready for fatherhood. You have to learn to drink and drive, pay child support, and look idiotic in shorts. That's a lot of responsibility. Hell, he's still busy getting DUI's while riding his bike around Boystown. Just because about the only damage he's doing drinking and pedaling involves breaking his waffle cone, doesn't mean Mike Stanley's not a menace to society. Find a finger in your fast food? No, you just found a way around those germy elevator buttons! And for all you single ladies, Stanley's got at least one big secret (okay, it's not that big…) Beyonce won't tell you.
Also included in this special DVD package is the short documentary, "Salty Language, Peppered Morals," which finds Mike Stanley taking on a 1200 mile drive to do 5 minutes against 70 comics at the Boston Comedy Festival. Filmed by two of Stanley's best friends and featuring behind-the-scenes interviews with stand-up veteran and mentor Danny Bevins, the feature gives both comics and comedy lovers a backstage look at life on the road. While people ask Mike Stanley how he can stand the pressure, the travel, the uncertain pay and hectic, sometimes heartbreaking schedule of the comedy life, he can only ask how they can do anything else. "Salty Language, Peppered Morals" is an alternately serious and silly look at a life most of us will never know.
---
Share this Product