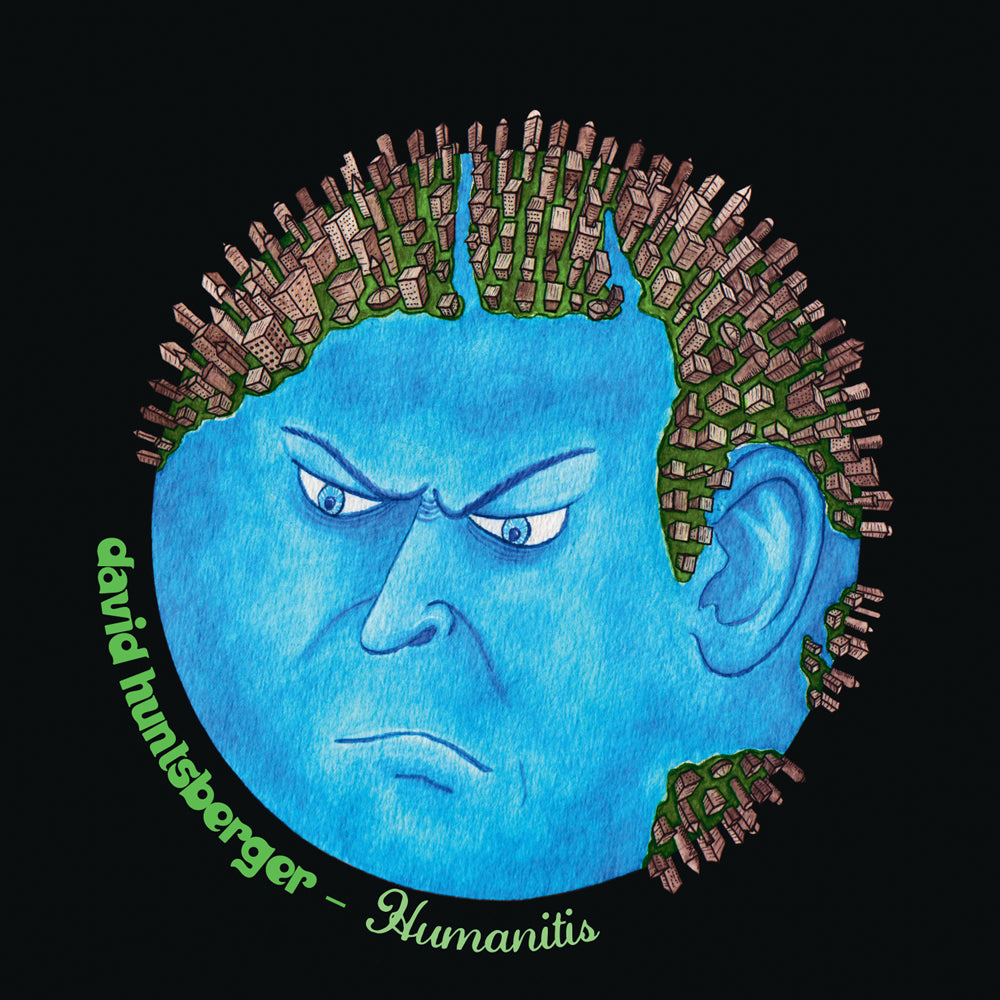 David Huntsberger - Humanitis (download)
This product includes a compressed (.ZIP) folder containing .mp3 audio files and a .jpg image of the album art. After purchasing you will receive an email within 5 minutes with a link to your download.
Don't talk down to strippers; we all do everything for money. Every single job is for money. Even stand-up comedy. Pull out your wallets friends, and toss a tenner at David Huntsberger. Sure, you can't see him takin' it off as you listen to his new CD "Humanitis," but we promise you'll be able to imagine it.
While it's often hard to sum up a comedy record, it's safe to say "Humanitis" is a metaphysical tour of the cosmos, the earth, the human body, and, of course, the gnomes who control us with their subterranean magnets. Between examining the vanity of mankind ("Fake pretty is better than real ugly.") and considering the special talents of the highest-paid astronaut (that'd be the one on call to show the alien-hillbillies "who's boss"), Huntsberger still finds the time to revel in longer form commentaries on the absurdity of modern urbanites' biggest fears. He assuages pointy-headed anxiety by explaining just why stupid people will never take over (and delivers one of the most effective two-word punchlines - "For reals?" - we've ever gotten on tape). He explains the anti-hate-crime that is the "black barbershop stand-off" (you just can't read the price list forever). And while he's never crossed that line, David Huntsberger will shamefully admit: he's intrigued by littering.
Huntsberger's been featured on Comedy Central's "Premium Blend" and NBC's "Last Comic Standing," has performed alongside luminaries like fellow Stand Up! Records posse-members Maria Bamford and Patton Oswalt, and has earned a degree in civil engineering. With a resume like that, he can't lose.
Track Listing
Y'all Drinkin'?

Books and Covers

What's that Smell?

Anything for Money

The Upside of Hate

That's Noble

Ain't Natural

Planet You

Stupid Old Egg Rush

Make a Baby

Cellileo

The God of Ants

Science is Modern

Afterlife (Herb)
---
Share this Product