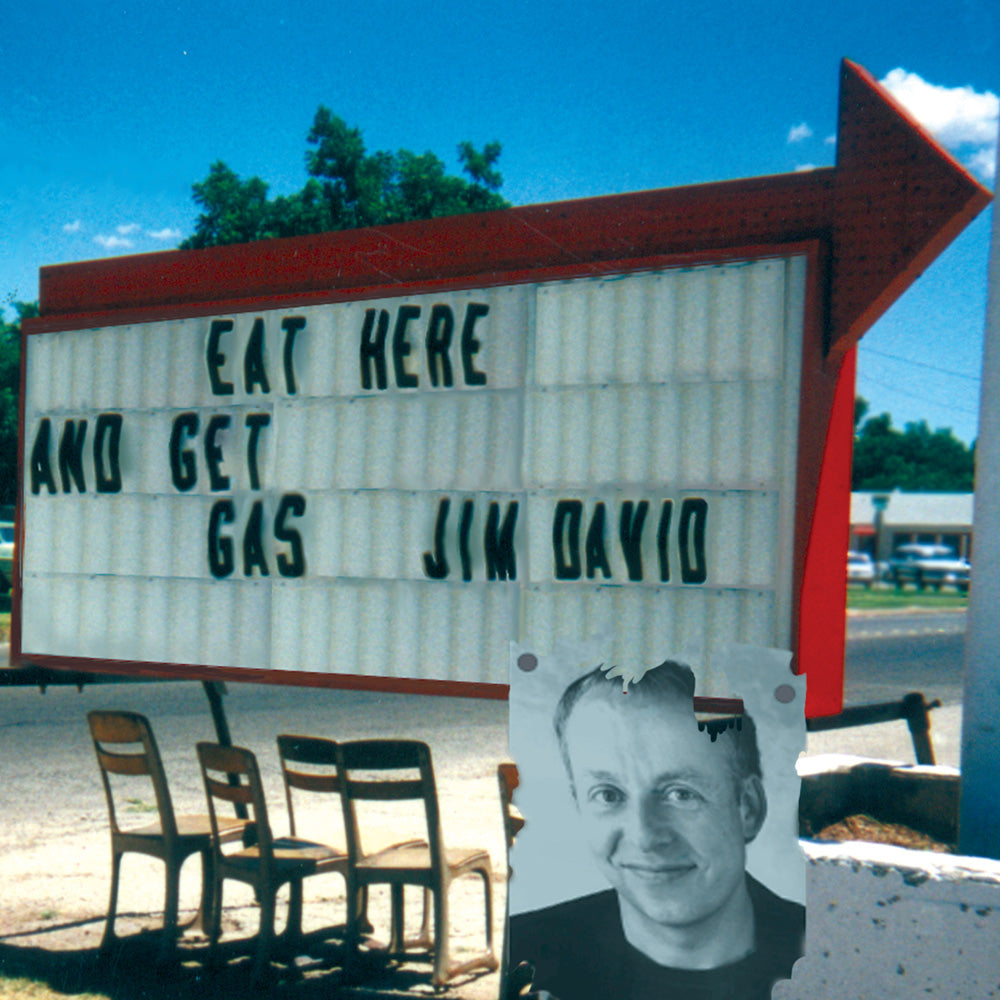 Jim David - Eat Here and Get Gas (download)
This product includes a compressed (.ZIP) folder containing .mp3 audio files and a .jpg image of the album art. After purchasing you will receive an email within 5 minutes with a link to your download.
Listening to the remastered version of Jim David's record "Eat Here and Get Gas" (originally self-released in 2001), now out on Stand Up! Records, is a lot like coming home from a hard day, slippin' into a cozy pair of pajamas, and turning around to notice that the ass is missing. Soon, of course, you discover that the new, easy access PJs are better than ever; heck, they're downright refreshing. David's subversive, witty routines start off at a comfortable pace, but when he slips into an English accent and a falsetto, watch out! You're about to have an image of the Queen Mum's nether regions - and her entreaties to enjoy all of their amenities - burned onto your retinas, whether you've signed up for it or not. With over 20 years of stand-up comedy experience under his belt, along with work in theater and on the toughest stage of them all, a high school classroom, David can clearly work an audience in front of him night by night or listening at home, in their cars, or wherever fine comedy records are sold. He's at his finest when he's on the attack, but don't worry, David's an equal-opportunity mocker. Be you from Maine or Mississippi; black, white, or yellow; the matriarch of a revered royal family or a Wal-Mart greeter, wait your turn. Never mean-spirited, David peppers his set with wry observational humor, like a twisted Jerry Seinfeld, and serves as your tour guide on a journey into a world that can happily post signs outside truck stops reading, "Eat Here and Get Gas." When the world is this funny on its own, it's a great surprise to look at it through Jim David's lens.
Track Listing
I've Seen You, You Ugly

The Grin of the Mollusk

80,000 Lesbians

Champagne Virgins

Horrors of the White Man

Trash de Blanc

I'll Have the Breast

Losin' My Legs

A Jetsons Coloring Book

Lord of the Flies Academy

Who's Your Daddy?

Those Wacky Brits

Political Fashion Show

Jumbo Prawns

Good Evening Ladies and Gentlemen
---
Share this Product