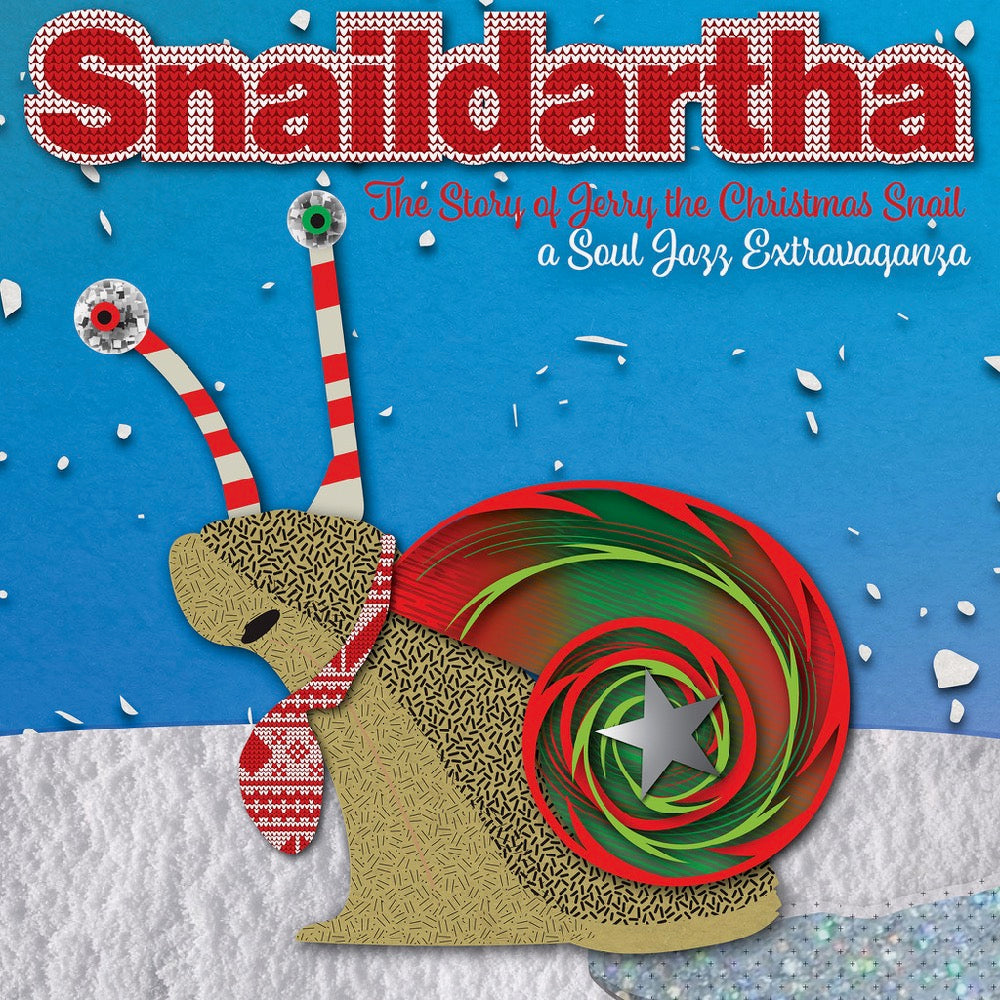 The Snaildartha6 with George Cartwright - Snaildartha: The Story of Jerry the Christmas Snail (download)
This product includes a compressed (.ZIP) folder containing .mp3 audio files and a .jpg image of the album art. After purchasing you will receive an email within 5 minutes with a link to your download.
Soul jazz, Buddhism, snails: This is Snaildartha Christmas. Nearly 20 years after its original recording as a 100-copy holiday gift for friends, The Story of Jerry the Christmas Snail has become a holiday staple on "left of the dial" stations around the world (and the highest-streamed portion of New Jersey radio station WPRB-FM's annual Christmas music marathon broadcast). With narration by comedian and co-author Matt Fugate, composition, writing, and production by Chris Strouth, and a jazz trio helmed by sax legend George Cartwright, it's sure to reach heavy holiday rotation in your house, too.
Snaildartha's musical backbone—err, experimental exoskeleton—is formed by Cartwright, the avant-jazz architect of the Knitting Factory sound and pioneering late-'70s collective Curlew, in one of his best recorded performances to date. He is joined by organist Scott LeGere, whose work has been featured on Clio-, Emmy-, and Cannes Lion-award winning and Grammy-nominated recordings, as well as master percussionist Terry Haanen on drums. And making sure each beat, each groove, each flight of fancy comes through with all the spirit of the season, the whole shebang is under the care of illustrious producer and co-writer Chris Strouth (a Minneapolis-based musician and filmmaker perhaps best known as the founder of the Future Perfect Sound System and the composer and bandleader of Paris 1919). It's a new holiday classic perfect for the whole escargatoire!
Track Listing
Rhapsody In Snail
A Snail Is Born
Interlude In Snail
The Te of Bob
Snail Night. Holy Night
Gift of the Menagerie
Snails Pacing
A Pilgrims Progress
Frostbitten Paws
Waiting for Claus
A Child's Christmas In Snails
Breakfast with Santa
Escargot A Go Go
Santa's Little Helper
Snail on the Keys
Claus and Effect
On the Half Shell
Discovering the Snail Within
Happy Glitter Trails
---
Share this Product