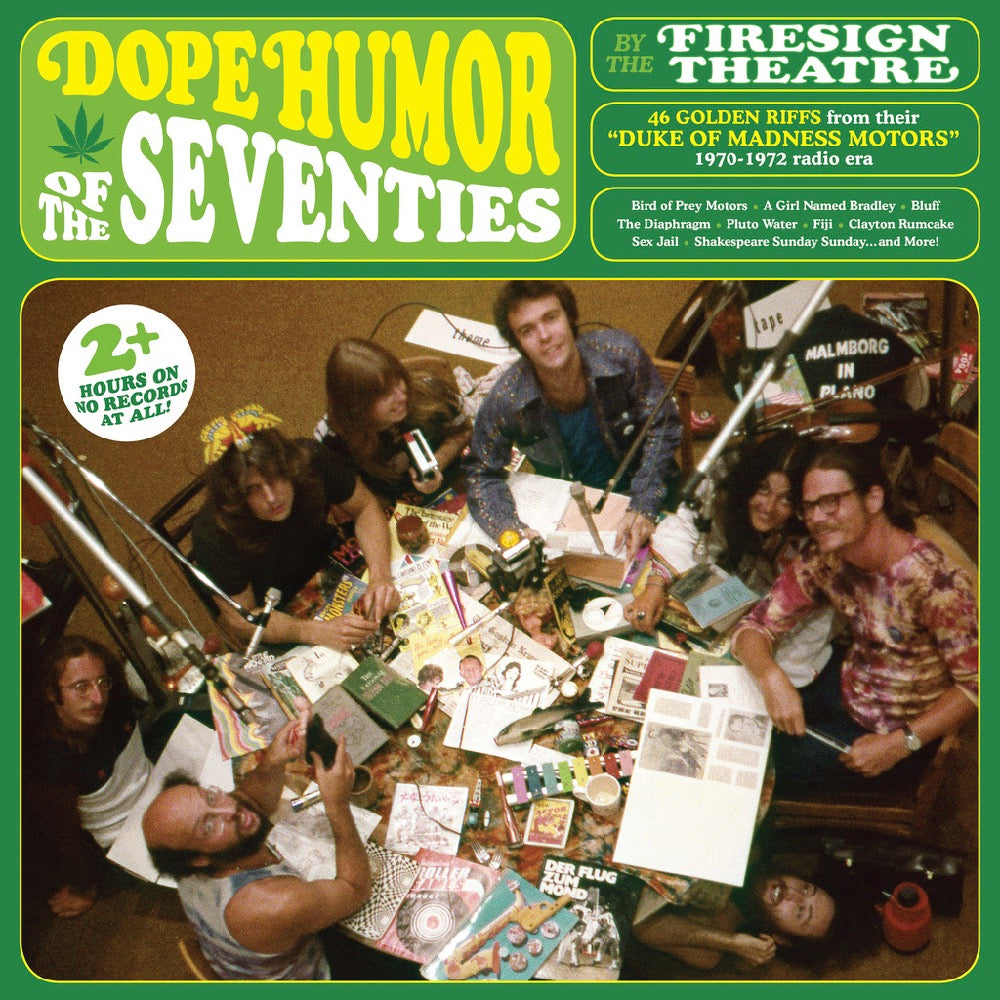 The Firesign Theatre - Dope Humor of the Seventies (download)
This product includes a compressed (.ZIP) folder containing .mp3 audio files, a .jpg image of the album art and a 56-page PDF booklet. After purchasing you will receive an email within 5 minutes with a link to your download.


What's all this brouhaha? Why, it's the Firesign Theatre, memorably dubbed the "Beatles of Comedy" by those eminent wonks at the Library of Congress, with their first vinyl release in nearly 40 years, "Dope Humor of the Seventies." This expanded download contains a whopping 144 minutes of cannabis-infused comedy from the true psychedelic channel-switching radio pioneers—Philip Austin, Peter Bergman, David Ossman, and Philip Proctor—plus a 56-page PDF booklet featuring the original scripts festooned with broadcasting notes brings this full freeform, surrealist seventies time capsule to your eyes and ears.
In a political and social moment rooted in the antisocial, oligarchic tendencies of the Nixon era, what better way to find the humor than by heading forward into the past with the frolicsome, feral four-piece that reshaped American comedy on L.A.'s airwaves, one subversive bit at a time? We here at Stand Up! Records couldn't possibly be prouder than to partner up with the irrepressible, irreplaceable Firesign Theatre.  
Track Listing
Shakespeare Sunday Sunday
Pig Science
Truth & Consequences
Clayton Rumcake
Lemon Duck Dragnet
The Chinchilla Show
Zinglish & Garbage Heights
Hawaii
Timmy's Birthday
World Domination Touch Football
Jesus' Ascension into Bakersfield
Mary Warner
The Secret of Identities
Schleiger Beer
Sex Jail
Rules
Drug Abuse Expert
Harry Carrozzi, Minority Street & G*d
Pluto Water
Bluff.
Smoke Spud
Vince Tomaine's Leg-o-the-Crow
Bob Dog Dog & Dog Hot Dog Son & Foot Tires
Proctor and the Rat
Space Age Hardware
Fiji
Mutt & Smut: Subversive, Not Faulty
Speed Kills
Yale Distorts
Funny-Name Club of America
Family Bund Meeting
The Diaphragm
A Girl Named Bradley
The Money Song
Multiple Identity
Radio Prison in Peace & War
Louis Marshman Editorial
The Darkening of the Light
Railroad Sunrise
Trashman Rap
Channel 18 News
Dope Humor of the Seventies
K's Mart
Bird of Prey Motors
The Dr. Beanbag Show
Loons
---
Share this Product