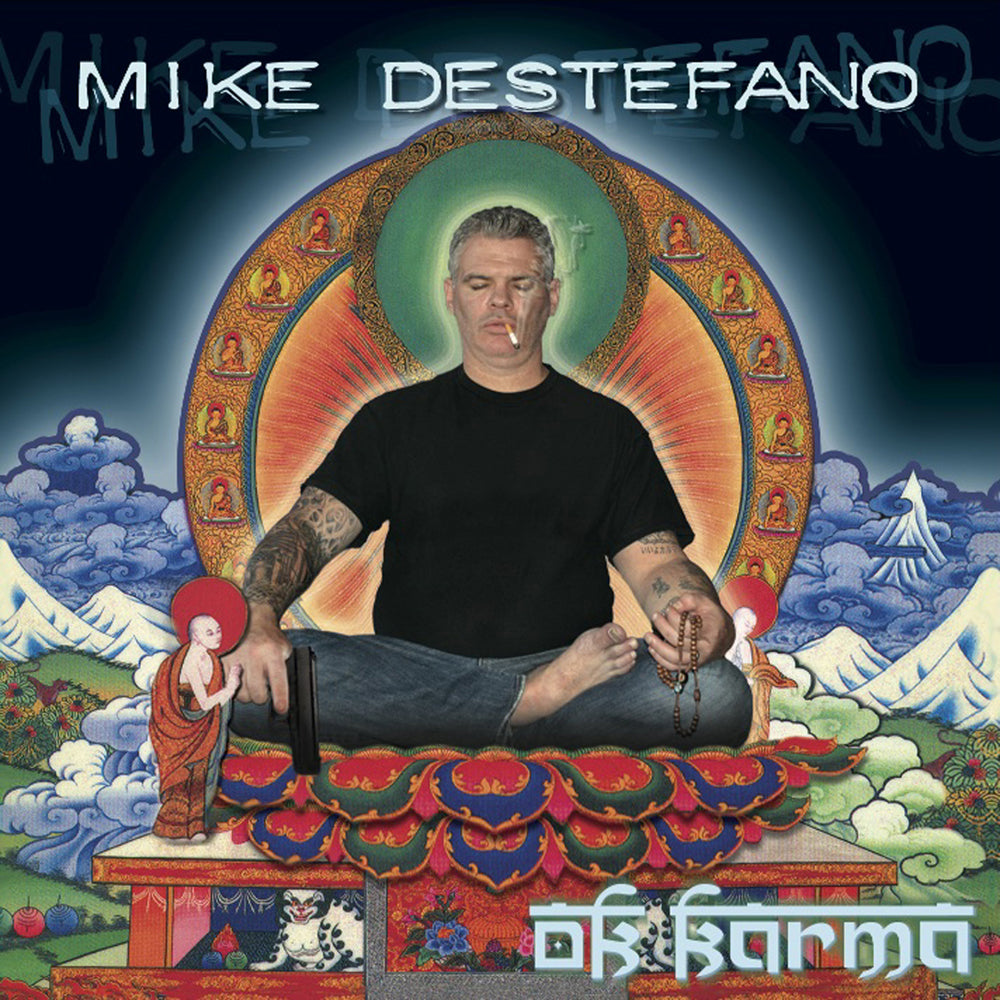 Mike DeStefano - OK Karma (download)
This product includes a compressed (.ZIP) folder containing .mp3 audio files and a .jpg image of the album art. After purchasing you will receive an email within 5 minutes with a link to your download.
''OK Karma.'' The title of Mike DeStefano's first stand-up CD isn't so much an assessment of his status in the universe, nor is it an open, ''Bring it on!'' style exhortation. No, more in keeping with the conflicted Buddhist he represents on the cover (gun in one hand, meditation beads in the other), ''OK Karma'' is a mantra. If Buddhism is about realizing that desire, attachment, and addiction cause all suffering, OK Karma is DeStefano's way of acknowledging that we've all seen some sh*t. Okay, he says, this is how the world is. And if the world's like this, we'd better put aside our weeping and our bitching and get down to the laughter. It just might save our sorry lives.
DeStefano's delivery is straight-up Bronx. No trickery or slippery rhetoric here, just truths - the harder, the funnier. With years of New York, sink-or-swim comedy behind him (and, before that, a life full of the heavy kinds of experiences that render a guy a wee bit unlikely to care if an audience loves or hates him), DeStefano has learned how to dish it out, how to take it, and how to wrap an audience around his finger (we're guessing it's always the same one...) in an hour or less. Listening to him level humanity, regardless of color, religion, age, or political inclination, is a revelation. Because it doesn't matter who you are, suburban kids who think they're gangsters are always annoying.
Appearing now on the 2010 edition of NBC's ''Last Comic Standing'' and nearly every night on a stage somewhere in the great Big Apple, Mike DeStefano is ready to receive his adoring fans. Just, for the love of Buddha, learn how to spell ''excuse me'' before you try to shake his hand.
Track Listing
Warm Welcome from Mike
NO!
BOO!
Ass Hair Waxer
Rage Against the Cul-de-sac
Homeless Tough Love
Fighting Terrorism
Bull-emic
Buffets and Librarians
Overused Words
A Million Bucks
Free Tibet
Spiritual Handgun
Heroin is Bad for Some People
Fake Optimism
Lead Finger
Chocolate Milk
---
Share this Product