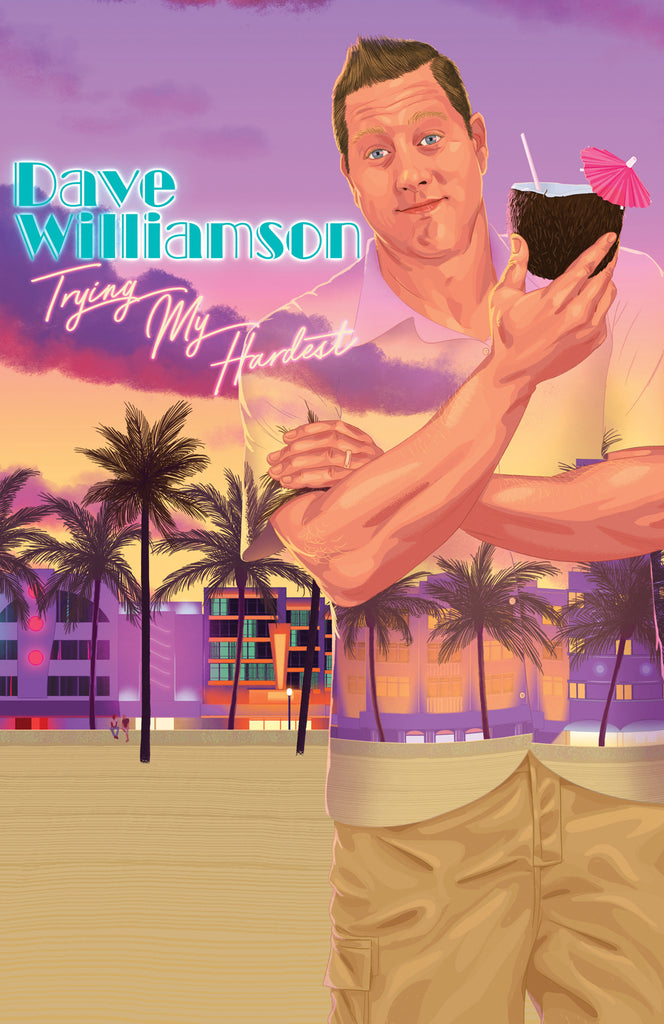 Dave Williamson - Trying My Hardest (video)
Also available as an audio-only download.

He's a dad. He's a monster. He's technically a pilot. Hell, he might still be a member of the Scorpions south of 184th Street. He's doing his goddamned best. Dave Williamson is back with his second release from Stand Up! Records, "Trying My Hardest," having saved all the best tales of life as a road comic, doting father, and Florida childhood for us. There's no politicking or misogyny, no aching for a youthful life of sex, drugs, and rock-n-roll—Williamson is genuinely joyful as he takes down capitalist Christmas traditions, waxes poetic about learning that good moms are all secret Gs, and wonders if there's anything more frightening than a gargoyle perched on your toilet, commanding from the darkness, "Wipe. My. Heinie!" He's left the safety patrol lyfe behind, becoming the try-hard dad who brings orange slices to his own pick-up basketball games and doles out the hard life lessons (for example, it doesn't matter who you are: if you behave like a six-year-old racist, you're done having nice things). Yeah, sometimes even when you win, you lose, but from where we're standing, everything's coming up Dave Williamson. And once you're done savoring this tasty treat, be sure to check out his podcast, Meat Dave, documenting his quest to master BBQ, one expert interview at a time. 
Track listing
How's Everybody Doing...
I'm a Dad
The Real Santa
Raising Boys
Poop Jokes
I'm a Monster
Basketball Good vs. Bad
Plane Babies
Flying Solo
Safety Patrols 4 Lyfe
Trying My Hardest
Trailer
Dave Williamson: Trying My Hardest from Stand Up! Records on Vimeo.
---
Share this Product