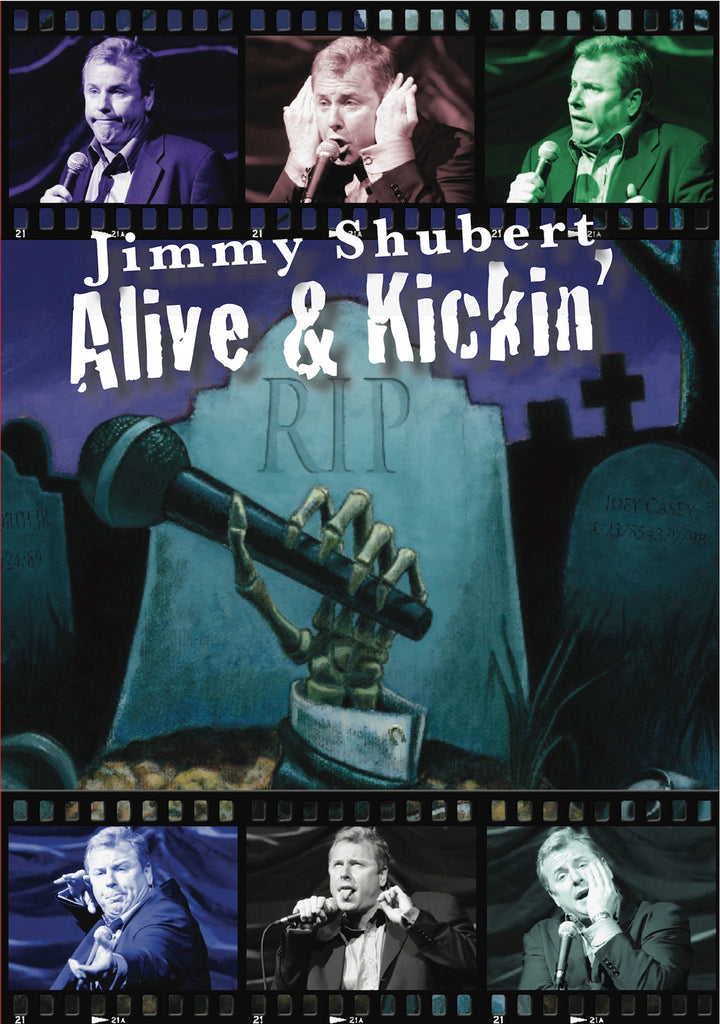 Jimmy Shubert - Alive & Kickin' (CD&DVD)
In a famous story, a terminally ill comedian is visited by Death, who comforts the performer, pointing out, "Hey, dying is easy. Now comedy… that's hard!" Well, Jimmy Shubert sure ain't dead yet. With his new DVD set "Alive & Kickin'," this one-time "Outlaw of Comedy" and more recent resident of both the small and large screens has put himself behind the camera, directing a cast of his friends and fellow comedians as they eulogize (and eventually try to grave-rob) their dear old friend, Jimmy Shubert.
The star-packed short film is followed by a full hour of Shubert's stand-up, wherein he brings his modern-day Archie Bunker persona to the masses, and with DVD extras wherein he takes it, literally, to the streets. While his Afghanistan video journal proves that a sleeveless cargo shirt might not to be the look for him, Shubert's performances, whether done with a tiny PA as fire fighters look on or in a war zone with an audience of grateful soldiers ready for a laugh, are timeless. He combines well-honed material with a relaxed stage presence of a slightly hammy class-clown with an eye for the ridiculous and a barbed tongue. As the middle child of seven brothers and tour mate of Sam Kinison's, Shubert grew up with some serious defense mechanisms, and if not with his fists, he's always gonna come out swinging with his wits.
The DVD "Alive & Kickin'," out now from Stand Up! Records, features a short film with cameos from friends including Gary Valentine (King of Queens, Stuck on You), Billy Gardell (Heist, You, Me, & Dupree), and Joey "Coco" Diaz (Spiderman 2, The Longest Yard, My Name is Earl); a director's commentary; a video journal from Shubert's USO trip to Afghanistan; a "One Night in a Comedy Club" featurette; and an audio CD (because watching DVDs while driving is, albeit a fun challenge, still too dangerous. Though, if you're stuck on the side of the road, Shubie's probably got a couple of cold ones in the trunk to tide you over…
Track Listing
It's Good to Be Here

Getting Your Irish On

Grandmom's Cakes

TSA-Holes

Coffee Break

Two Out of Three

Protein Scramble

Fresh Pepper

Larrrrrrry!! Larrrrrry!!

Animal (Last) Rites

Anybody Got a Hanger?

Psychedelic Frogs

Wild Discovery

Weak Memory

The Other Team's Playbook

Forensic Evidence

Priority Mail

Rural Beastiality

Conjoinal Nightmare

Lock and Load
---
Share this Product