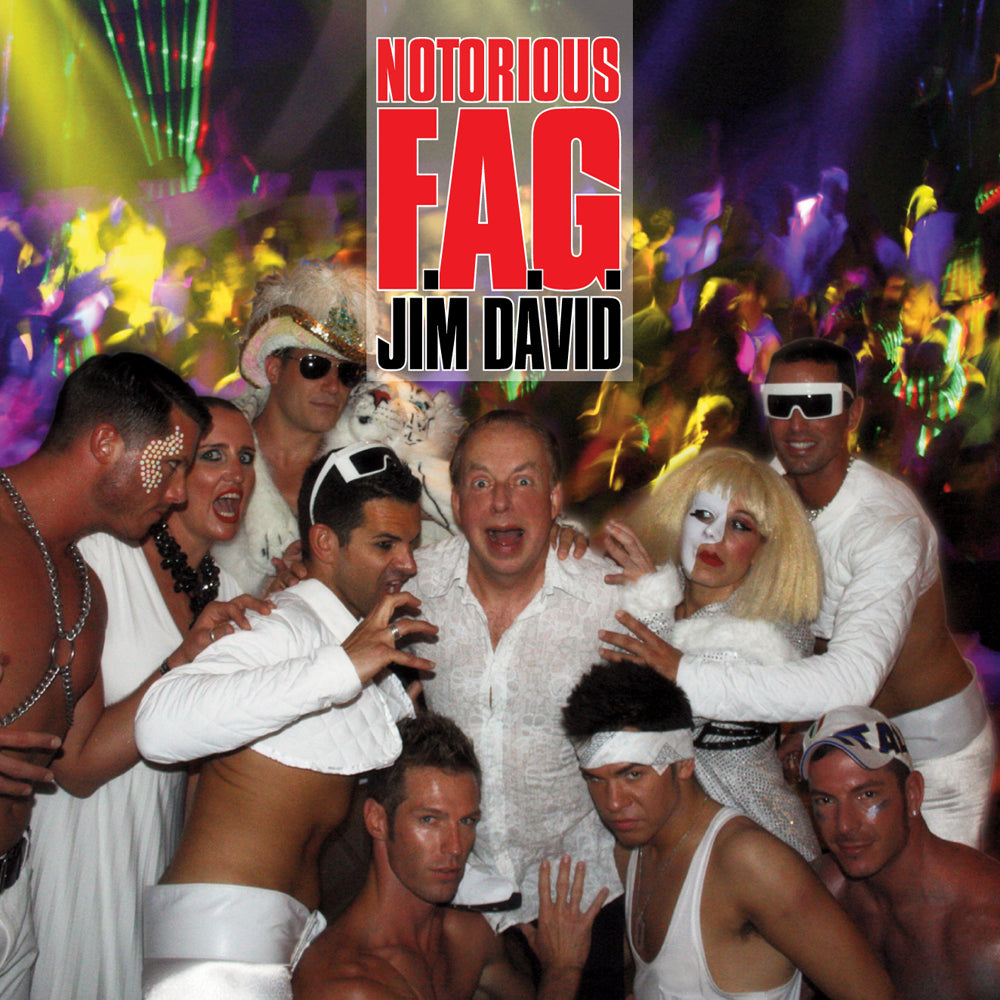 Jim David - Notorious F.A.G. (download)
This product includes a compressed (.ZIP) folder containing .mp3 audio files and a .jpg image of the album art. After purchasing you will receive an email within 5 minutes with a link to your download.
Back for his third turn on Stand Up! Records, Jim David's decided to let his parents introduce his latest professional triumph. And what gushing parents they are. They quickly dispense with a disclaimer that they had nothing to do with the content of Jim's act and that every word out of his mouth is a damnable lie, he's a perpetual liar, that's just what he does, but he's made a career out of it, and so they don't have to like it, but there you go. He's just about ruined Christmas, but he's an okay fella otherwise and, well, they're hoping you enjoy the show. And good lord, what will the neighbors think if they overhear this one? Did he really have to title it ''Notorious F.A.G.?''
After about an hour's worth of alternating grumpiness (largely based on the rapidly deteriorating, leaky hull of a body he's inhabiting, which now requires what an audience member glibly christens an ''ass-pon'') and gaiety (he name-drops Ashley Wilkes and Liza Minelli just before coining the term Gay-D-D), all we can say is, ''Yes, he did have to call it 'Notorious F.A.G.,' now let's just hope it doesn't start some terrible, middle-aged East coast-West coast stand-up feud!'' Jim David's full of helpful hints, including a redneck-comedy-inspired ''You Might Be a Middle-Aged Gay Man If...'' riff; a ''Doe-a-Deer'' parody that will, surprisingly, teach you to pronounce Mahmoud Ahmadinejad; and how to translate the acronyms on internet hook up sites, and there's not a hateful bone in his body. No, all he's learned to hate is all of the bigotry and prejudice in the world. And Mexicans.
Track Listing
A Message From Jim's Parents

How May I Help You Today?

Nobody Knows About Margaret Mitchell

I'm Sure the Neighbors Are Enjoying This!

Are These Tortoises Gay?

Everybody Talk Rike Dis

What? Who?

Is Not Butter?

You're Never Too Old, Right, Buddy?

The Most Unfunniest Comedian

THX1138-655321//R

The Crotchtower

I Think You're Evil!

You and that Barbra Streisand

We're All Going to Die
---
Share this Product